Q Bar Zadar
Lokacija
Liburnska obala 6
Zadar
Croatia
44° 6' 58.0248" N, 15° 13' 41.9376" E
Javascript is required to view this map.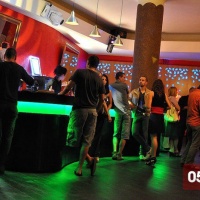 Nalazimo se na adresi Liburnska obala 6, ispod kluba Garden, tik do restorana Kornat. Donosimo nešto sasvim novo i drugačije, nešto veselije, i mnogo popularnije!
Imate želju za noćnim izlaskom, udajete se i želite domjenak? Kava u zatvorenom ali uz more? Nikada niste vidjeli kako se trajekt privezuje uz obalu? Gladni ste? Treba Vam catering? Ili ipak samo želite finger food, zaplesati tango ili popiti najbolju kavu?
E za to smo mi tu!
Domjenci , u novouređenom prostoru, neobičnog izgleda, koji može ispuniti sve Vaše želje! Ponuditi Vam najbolju hranu, super rasvjetu i glazbu, piće koje god poželite - na pravom ste mjestu! Mi ćemo Vašu zamisao pretvoriti u javu :)
Željeli biste poslušati neki koncert? Tu smo opet mi- slušamo Vaše prijedloge kroz cijelu godinu, upijamo, pamtimo, i na kraju i napravimo spektakl! Od Romske pa sve do Brazilske glazbe, glazbe Vaše i naše mladosti, starog rocka, ili pak najnovijh hitova. Kod nas budite Elvis, Travolta, Elton John ili čak Lady Gaga!
Svaki četvrtak rezerviran je, za gore navedene, hitove naše i Vaše mladosti - Kasandra, Emilija Kokić, Ivana Banfić, Toni Cetinski '98. Zagarantirano najbolja zabava četvrtkom u gradu Zadru - TRASH party.
Petkom i subotom postoji velika varijacija na temu - od koncerata, do tematskih evenata. Promocije raznoraznih pića, koncerti, studio 54 night, Rock night, .. sve ono što možemo izmisliti.
Želite li zaplesati tango - jednom mjesečno, petkom, čiji datumi će biti na ovoj istoj stranici izvješeni, uz 60 profesionalaca, budite dio tango večeri, te se zabavite do ranojutarnjih sati.
Budite uz nas, jer mi Vam pružamo ono što poželite!
Zatražite i Vi Vašu VIP-icu i uživajte u pogodnostima pića na akciji do 01:00h, te , da ne zaboravimo, vrlo važno pravilo našeg malog svijeta - +21 te ulaz sa osobnim iskaznicama!
Mi smo tu za Vas i JUST FEEL THE Q IN YOU!